Don't neglect your vehicle's electronic systems - trust our experts to repair your vehicle properly the first time around! A poor driving experience can often be related to a malfunctioning computer or driving controls. Come to Mr Quick Tune to ensure your vehicle is in top driving condition.

Our electronic services include:
Check Engine Light
No one likes to see their car's "Check Engine" light come on. The light could mean a costly problem, like a bad catalytic converter, or it could be something minor, like a loose gas cap. At Mr Quick Tune, we can pull the code and diagnose the problem for you. Give us a call at 901-382-2530 or stop by the shop for our expert assistance.
Computer/ Electrical Networking System
Call us at 901-382-2530 for more details
Diagnostics
Mechanics at Mr Quick Tune are able to diagnose all the electronic parts in your car. For expert diagnostics services on your car's electronic devices, visit Mr Quick Tune today.
Drivability
Drivability is the degree of smoothness and steadiness of your car's acceleration. Most modern cars are fitted with on-board computers that continuously check the readings from various sensors. In case of drivability problems, you will receive a warning message on your car's dashboard. To have your car diagnosed for drivability issues, visit Mr Quick Tune in Memphis, TN 38134 today. At Mr Quick Tune, we have the necessary tools, training, and technology to diagnose and address your car's drivability issues.
Engine Controls
Basically, an engine control system is an on-board computer in your car. Like all computers, the engine controls are composed of hardware and software. Automotive engine control systems are responsible for regulating exhaust emissions, and providing increased fuel economy. To get the best out of your car's incredibly powerful technology, make sure engine controls are working properly. To check if your car's engine controls are working properly, call Mr Quick Tune today.
What our clients are saying about us
We have established longterm and stable partnerships with various clients thanks to our excellence in solving their automotive needs!
More Reviews

Phil does it again. Got me in and out the same day. Fixed the issue for me as well as another that I had him take a look at while he had it. Phil knows his stuff, highly recommend. Thank you guys again.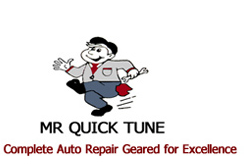 Replaced alternator and flushed radiator. Explained the problem and the remedy in detail. Started and finished the job in a timely manner as I waited. Have never received this type of quality truck repair from any dealer in all my days! Thanks for a job with done!!!